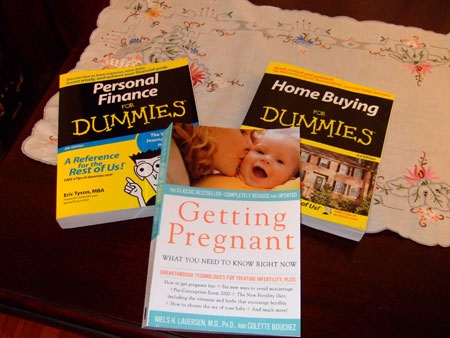 I can't believe July is already here! I don't know where the past six months have gone. I've just been treading water living my life and enjoying the delights of being Mrs. Dottie and taking a good mental break from 2006 which was pretty intense work-wise, body-wise (what with the surgery and losing weight for the wedding) and oh yeah, wedding-wise.
But now it's time to get busy.
I'd like the focus of the rest of 2007 to be on planning–getting our house in order. Financially and physically. Mr. Sweetie and I are on a budget. A hardcore beatdown pay stuff off and save for a house budget. But don't worry–I did include yarn in the budget. 
And my other goal is to get my body baby-worthy. I don't know what water source some knitters are drinking from, but there are a lot of pregnant ladies out there–like Ms. Japel from Glampyre
Glampyre and Vanessa from Colourknits. Oh, and I just heard that Amelia Raitte is also PG. I must admit that reading their posts is just wonderful. I have so many of my friends that are pregnant now as well–it's so great–a delicious sense of anticipation and of course terrific opptys to knit baby items!  But the fibroids have scared me and my gyno told me I needed to lose weight. I know the most important thing will be cutting out sugar. I know sugar is bad for me. I gave it up for six months last year and when I had it again I felt pains in my uterus. Hmm… kinda a sign to give up sugar, hmmm…?
People have always told me I would make a great Mom. I hope they are right. From nursing my Raggedy Anne doll,  being a Mommy is all I've ever really wanted to do with my life. Perhaps because I have such an amazing Mom. And fortunately, Mr. Sweetie wants one just as badly as I do. But I have this feeling that being told your will be a great Mom is infinitely easier than actually dealing with having a baby.
Soon.
Must be patient.
Soon.
(Oh, and yes–I finally figured out how to make text links!)