I first heard the term "keep" to describe someone's home about 10 years ago. It was during an NPR radio segment about homes in Russia to describe the cozy feeling that one's home can get through years of love and life. Then, I realized I heard it many times before in one of my favorite songs of the 80s by ska band extraordinaire, Madness…
"Our house–it's our castle and our keep.."
And the term "our keep" came to mind, when we first saw this house. It is our keep.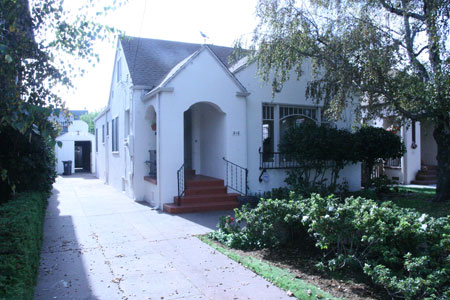 Our wonderful new keep–cozy, yet roomy and bright with a big holly tree out back to hang a hammock from. A lemon tree to make lemon sorbet year round. A big garage for Pinkie our 1957 pink station wagon to snuggle into at night. The brightest kitchen with the original metal cabinets to house my vintage kitchen goods. And a room that is begging to be our nursery. Perfect for our little Peach.
We have the keys in our pocket. A month from our first viewing.
And two months before the baby comes… I can pack up a house and unpack a house during my third trimester, right? During the holidays? During one of the busiest times for my company. Right?  Wish me luck!