First off, did everyone have a nice Thanksgiving? I forgot to take pictures of my beautiful Bacon Wrapped Turkey and Parker House Rolls with herb butter, but they were lovely. But more importantly, I have a lot to be thankful for and it's wonderful to share this special day with family and friends.
But, back to my lovely random post here…
I don't know if it's the babyor just plain stress, or what, but I just haven't been getting the sleep I need.
Usually around 2:00AM, I wake up and starting thinking and before I know it, it's 3:00AM and I decide to get up instead of fretting in bed about how I can't go to sleep.
Please note that this is why I've been posting more. All of a sudden I have a good four hours added to my day. Unfortunately, Mr. Sweetie is a light sleeper, so I can't cook, run the sewing machine or watch TV, but instead just stay hidden in our little office trolling the Internet for stuff or researching things, etc.
This morning, I decided to look for a little vintage lamp for the baby's room. I don't know why, I just thought it would be nice to have a little bedside lamp for the kid. But a cheap one. After three different search around vintage children's lamp, child lamp, children lamp, this gem pops up.
But take a closer gander as this vintage gem. It involves a little girl KNITTING.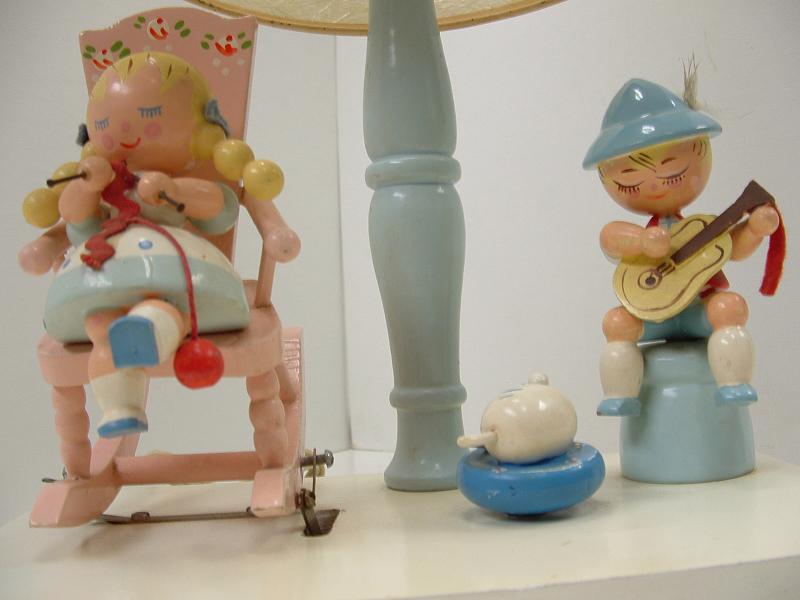 And a cute little boy blue playing the guitar–just like Mr. Sweetie! But wait THERE'S MORE…
Your turn the little CAT (mildly similar in color to Minnow and the lamp plays a tune and the girl's rocking chair moves. Finding this was totally worth going without four hours of sleep last night, since I found it just a half hour before the auction ended. Hurrah!
And the whole thing was cheaper than a small lamp purchased a IKEA.
I love being cheap.
I am going to paint the edge of the base red and possibly the main part of the lamp. So, yeah–that makes it OK to put under baby crafts, right?