I must say, I am one very very lucky lady.
Lucky to know so many other wonderful ladies, who decided to fete the little lady in my belly last Saturday in the most marvelous way.
Karen, Dana, and Claire knocked it out of the awesomeness park to create prolly one of the best parties I've ever had thrown for me or by me! Replete with these utterly gorgeous banners that Karen made. Are they not perfect? My love of gingham is known far and wide and these banners.  It wasn't enough for Karen to just pick fabric to make them. Oh no, she had to HANDCUT a stamp of jack and a red ball and miraculously found a stamp of ick-rack (which is just about my favorite thing in the world) and create her own fabric for the banner. All in the colors we are planning to do for the baby's room.  Karen, I bow to your crafty cleverness.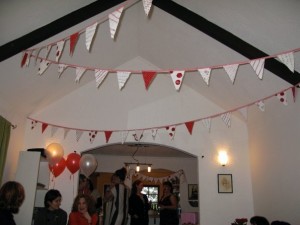 Fortunately, Karen said that she was planning on giving them to me, as I was already pregnant and couldn't stuff them under my shirt while no one was looking to steal them for the nursery.
As if that weren't enough, the wonderful young Dana made all of the guests these simply divine flower hairclips to wear and even made this wonderful poppy one for me.  Here I am in the middle of telling one of the presents they were too cute and naughty for their own good.  Oh and the presents! They are too cute to even be posted here–you might go blind from their radness!  My friends have spectacular taste, which will of course translate to beautiful taste for my little one.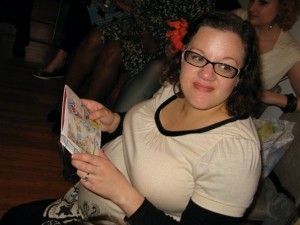 And speaking of taste–check out this amazingly yummy cake Krista of Sugarcoat It Studios made. IT WAS SO GOOD! I had one friend who demanded that the cake be cut, so she could have a piece before she had to leave early.  And check out that crafty blanket stitching motif on the little ode to my first baby, Minnow.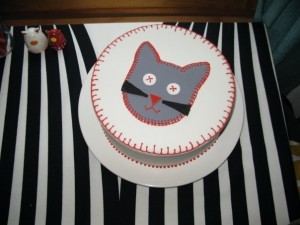 Seriously, how did I end up with so many gorgeous, talented, amazing, thoughful, funny friends? I am so happy to bring my little Sugarsnap into this wonderful extended family of aunties so full of love.
Yup, I'm one lucky gal…