Unfortunately, due to technical compooter difficulties, I haven't been able to post for the past week, which has indeed been a bummer, so I expect a few posts over the next few days until I deliver.
Which by the way has not happened yet. My due date came and went with nary a proper labor contraction. The day did include a couple of good errands like a run to IKEA for last minute nesting, a dead car battery, a missed OBGYN appt., and tons of traffic.  Hmm… I wonder if I make the baby her quilt, if she'll come out… Stay tuned for more posts on that…
Oh and I'm huge–as I wrote some friends earlier this week you can see and the wall of China from space.
Anyway, back to my original post I was writing and wanted to post Monday.
Ever since I my cousin, Cheryl unwrapped her Barbie Dream House* that fateful Christmas morning all those years ago, I've dreamed about the way I would decorate it.* And now that I'm in a house I plan on being in for hopefully a long time I want to make the right decisions.
I can't remember the name of the designer who said  to only bring things into your house that are useful and/or beautiful, but it is something I am now cleaving to, which means waiting on items until you find just the right thing that suits your fancy to a T. Like this: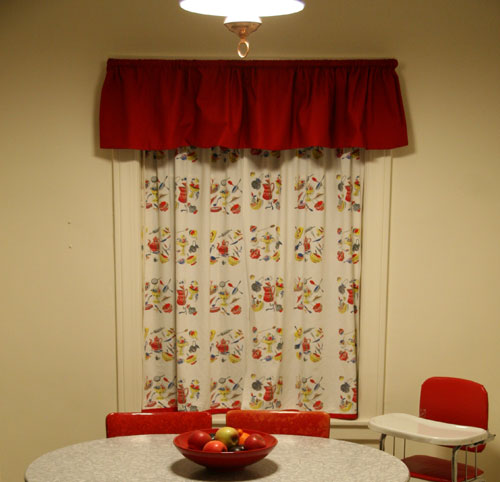 I don't know why, but I love Love LOVE these dear curtains I made from a vintage tablecloth bought off of Ebay last year thinking they would be nice somewhere in my old kitchen. Kinda kitschy, but full of that late 50's charm that I find so dear. And they match the older yellow counter-tops we inherited with the house along with our vintage red kitchen table we've had for awhile.  Here is a close up of the pattern: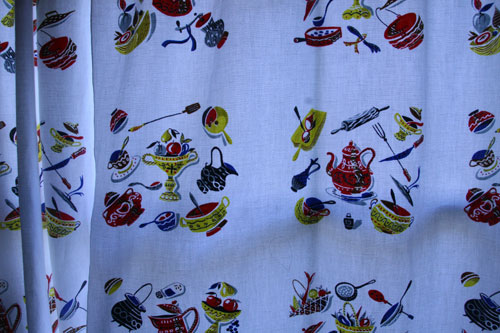 The valance I made–well, I'm still under debate on that. It looks a bit heavy, so I might have to pull that back a bit. We'll see.
But the curtains make me smile. Isn't that was your house is suppose to make you do?
So, while I still have rooms that look like this: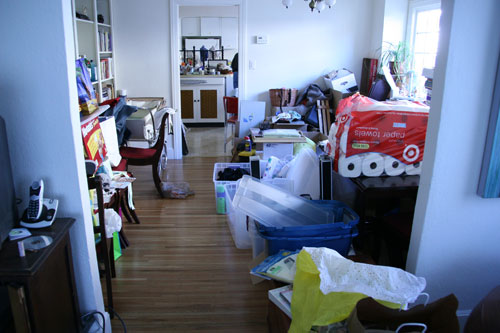 I can just turn my head to the kitchen curtains and smile.
*I know. I didn't get the dream house–instead my parents thought I would enjoy the barbie mobile home/camper, which to this day I still find confusing as I'm not much of a camper or motorist, but hilarious nonetheless.