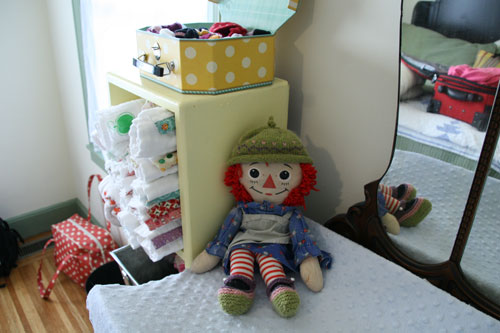 Just short of offering this kid a pony, I'm doing things to coax our little Peach out.  The first was the quilt and now this–some knitting fun and a place for her.
I have been too anxious to even think about casting on something that I won't have time to finish before the baby comes, and too pregnancy-brained to follow an actual pattern, so knitting projects have had to be pulled back to the most basic ones. But basic doesn't mean not full of charm or perfect for the baby.
I somehow managed to finish this sweet little set of booties with a matching hat made from yarn I already had around–nicely modeled by Raggedy Anne.
Raggedy is also testing the little nook we carved out for the baby in our bedroom room, since the nursery is not ready yet. I'll give you a sneak peak of it tomorrow hopefully…  We patched together the little space with an old bookcase that holds the burp cloths I edged with vintagey fabric, as well as IKEA tins full of the tiniest little shirts in size newborn just waiting for the Peach.  Oh and a little box full of the sweetest footies ever.
The top of my great Aunt Lil's mirrored dresser is the perfect place for a changing table. And the co-sleeper was too big, so we are putting the wee one in a vintage pram from the 40s that can be wheeled from room to room.
It's not big, my little Peach, but much love went into creating this welcoming place for you–so please come out–we are waiting for you. We've packed out bags and are ready to go.
We just need you to let us know when you are ready to go.