Well, I'm still pregnant. So very very pregnant.
A friend on Facebook said, "it's no use shaking the tree to get the fruit out–better to wait."  However, I must admit I'd like to strangle that tree and have my little Peach fall into my welcoming arms.
But instead I build a nest for her. A quilt to catch her and wrap her in against this cold bright world. Perhaps that is what she is waiting for.
Since the move, the quilt has been skittled around from room to room,  pieced together from the vintage tablecloth I bought ages ago.  I never sat down and said, "today I will make the quilt"–it sort of just bloomed on its own.  And machine quilting isn't as easy as it looks. It takes time and measurements and a bit of fiddling at times.
Mistakes were made (too fluffy of a batting traded out for an adhesive one.) And many stitches were taken out. Not for perfection–just to make sure the little quilt was getting the right guidance. I don't think there is a straight line of stitching on it despite the blue markers made with a t-ruler, but I don't think sthe baby will mind.
Here is the quilt.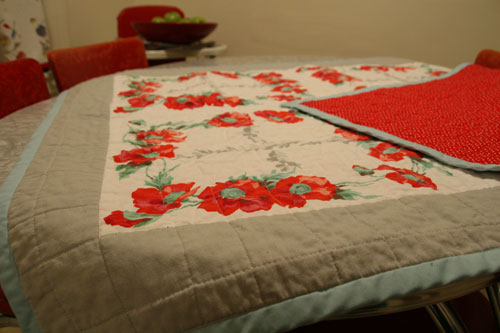 It is not perfect but it was a joy to make.
I always think of that one line from Wes Anderson's American Express video.  I know–bizarre, but inspiration can come from the most unusually places:
"There is beauty in the flaws and vice versa."
Which is so true for quilting and for life. It's the every day things that bring so much joy. So, I sit here trying not to be too impatient with  my little Peach and just enjoy this little bit of life as I finish this quilt early on a Saturday morning, listening to Ben Lee and Sean Lennon sing background to my whirring machine.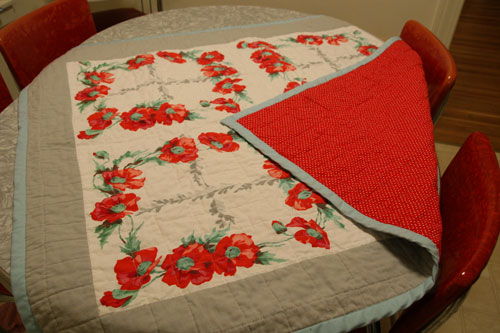 Patience. I will always wait for you, sweet baby.