It's been a week since we brought our little Peach home from the hospital and what fun she's been. That is if your idea of fun consists of changing diapers and not sleeping. And spending hours just looking at your newborn daughter in awe/shock.  Here she is blissfully snoozing in her rolling vintage 1940s pram that we are using as a bassinet, swaddled in her favorite blanket, snuggled up next to our bed.
We spent the first day home cooing over our little daughter patting ourselves on the back for being so lucky to have a baby that slept six hours straight on her first day home. Only to find out the next day from our pediatrician that we were letting her dehydrate by not waking her up for feedings. So we were sent to breastfeeding bootcamp and entered the world of sleepless nights and crying babies.
But it did give me a chance to use and show off to you some small craft projects I worked on but never posted. The re-covering of my Boppy and my "Brest Friend" pillow that I bought used for $5 each.  Here they are!
And pregnant ladies out there–the my Brest Friend pillow really is amazing for breastfeeding.  Three of my new mom friends agree with me–it made all the difference in helping them get their breastfeeding acts together.  I had the fabric in my stash, but I was somewhat lazy and just re-did the top of my Brest Friend pillow and left the rest the demin. Whatever, it still rules!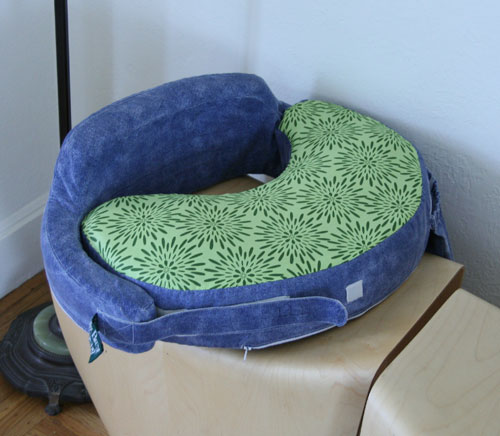 And the boppy is good for holding the baby if nothing else.   You can see the heinous cover that was originally on the Boppy. Ick!
Next post is going to rule. I promise!