I have been most remiss in our nursery updates which keep plugging along.
One recent addition is this marvelous mobile. The story behind it is sort of as a twisted ebay version of O. Henry's Gift of the Magi.  Basically, Eric and I kept driving the price up as each of us bid unbeknownst to the other to a shockingly shamefully high price.
I guess that really has nothing to do with the Gift of Magi, but  speaking of the Gift of the Magi, does anyone remember the late 1970s television movie starring a young Marie Osmond based on the story called "The Gift of Love"?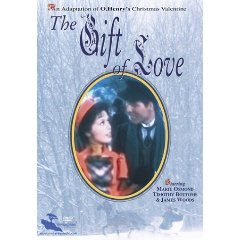 I was OBSESSED with it!
Anyway, back to the mobile.  Who doesn't love little painted figures from nursery rhymes?  And it has a very sweet albeit tinny tune that is played rather lopsidedly from the top that I think adds to its charm.
And we do love it so.  We've been Irmi fans for awhile–in fact that lovely lamp I bought for the baby's room when I was pregnant is Irmi.
I think the Peach digs it. Don't you?