I made a bit of a reference in my last post, but,  the Peach has been eying my dinner for awhile and I think she's ready to broaden her palette past cereal.
So Mama went to the Berkeley Farmer's Market and picked up some nice ripe organic goodies for the Peach. No peaches tho'–would that be cannibalism? (Haha! I'm such the comedian…)  But I did find some great zucchinis and pears that I steamed and pureed into future meals.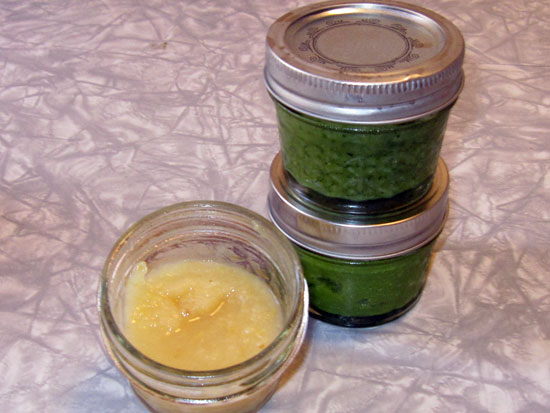 I don't know why, but I'm amazed at how easy it is to make baby food from scratch. And delighted as I wasn't too jazzed on feeding the Peach jarred baby food.  Have you ever tasted jarred baby food? I did when I was drunk off of too many mimosas at a baby shower ten years ago and nearly threw up. The memory of that taste still turns my tongue!  I'm sure they've improved through the years.* but I tasted all of the Peach's soon to be food and was very delighted with the taste. Particularly the pear.
For some reason, I was sure that it was going to be hard and I've have to follow very specific recipes. Boy, was I wrong.  This book was sort of like my training wheels for making baby food.    There is also this great site called Babyfood 101 that my darling friend Suzy hipped me too. And my darling daycare provider introduced me to this great site, Wholesomebabyfood.com.
The other great thing is that you can make larger batches and freeze the rest, so a Sunday morning spent cooking can take care of a couple of weeks of food. Nice!
*Oh, and for anyone that is into jarred baby food, there is this great review of them on CHOW. Check it out!