Well, I love a good pickle. A good lacto fermented pickle.
What can I say–I'm on this probiotic kick right now, thanks to some inspiration from this guy. Thanks to my OSV days, I was pretty hip to making pickles ages ago, but since leaving the farm for  the high-tech world of Silicon Valley, I opted for buying some fancy pickles instead of brining them myself.
But after spending upwards of $6.00 for a jar of pickles, I thought I could make my own.
However,  I'm a total slacker and had a vague memory of seeing Martha "pickle" her own carrots and celery and cucumbers using the left over brine from purchased pickles.
One buck worth of small cukes picked up at the Farmer's Market , et voila!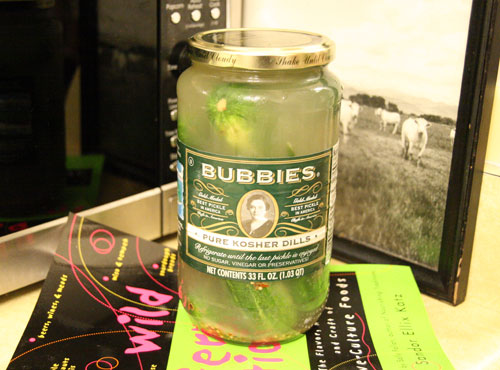 I'll let you  know how they taste in a week…