Over the past month, the Peach has become quite the explorer.  She actually explored herself right off our big tall bed one morning while I turned my back.
It was AWFUL.
In fact it was so awful that my little brain couldn't take the image of her falling off the bed and instead whenever I remember that wretched moment, I see a  baby doll with molded plastic hair fall off the bed in the Peach's place.
What a thoughtful brain I have!
But I loved our morning rituals of playing with the baby as I get ready in the morning before work. So, Mr. Sweetie brought this toy we just started using into the bedroom.
A lot of my friends have raved about the Baby Einstein playcenter, I must add my kudos to it as well.  And all of my friends have nicknamed this whirling dervish of baby fun.
One friend called it Mission Control. Very futuristic! Another friend called it "putting the baby in the office" which I loved too. But I call it the casino. What with all of its bells and lights and a very similar spinning toy that reminds me a slot machine that took $20 of my money, how could I not think of Vegas?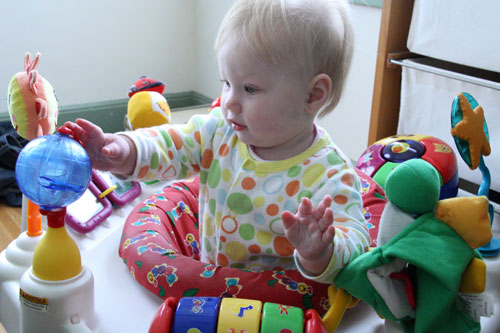 The Peach loves it. So, while I'm in the midst of my daily ablutions, Miss Peach is honing her skills at the baby blackjack table and I give a big sigh of relief knowing she's safe and happy.