Well, if I have no knitting going on, that doesn't mean I can't showcase the amazing work for others.
Exhibit A:
The Domiknitrix made the Peach this dandy red sweater–it's a baby version of her famous little red riding hoodie sweater that is so popular in the knitting world.
I love it. It is one of those pieces of baby clothes that have been worn to death by the Peach. I also love it because the Domiknitrix is such a clever knitter and you can see that thoughtful knitting stitch design in her work, which makes it particularly stunning.
Hmm… Perhaps this would have been a more stunning picture if I brushed the Peach's hair. Well, like mother like daughter, I suppose…
The Peach was wearing her sweater this weekend while we were out shopping when we were stopped by a lady who commented on her little outfit saying she looked like a European  baby with all her cute knits.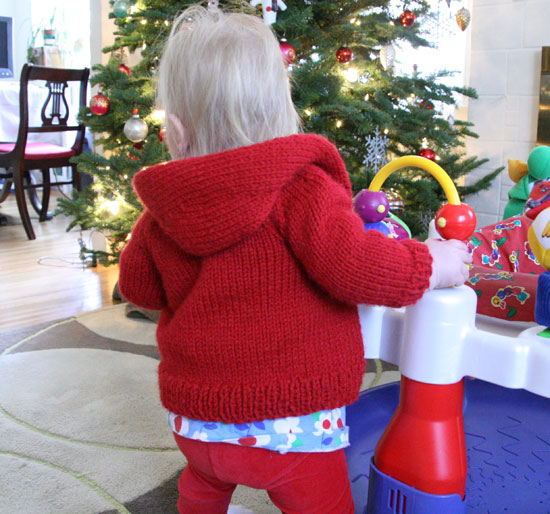 My little euro baby!  I have to laugh because the pattern on her little dress looks rather fancy, but I bought it from Babies R Us–Carter's brand along with a red and white polkadot dress for $4.00 this summer.